Cynthia Pickens Catering
Northville, MI
248.348.2233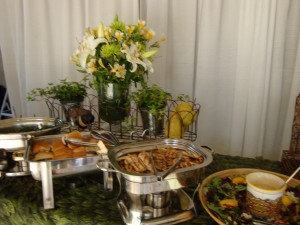 I use the freshest ingredients possible and work from both the recipes handed down over generations and those collected during my travels. I have traveled throughout Europe, South America and Asia, tasting some of the most exotic food imaginable. My success in replicating my favorite tastes from around the world is a personal point of pride.
Below is my homemade salsa recipe. I hope you enjoy it.
SALSA:
8 cups petite diced tomatoes
2 bunches scallions, chopped fine
1 cup packed cilantro, chopped fine
1 tablespoon kosher salt
1/4 cup fresh lemon juice
3 oz. can of diced green chilies
1/4 cup oil
1 medium red onion, small dice
2 tablespoons mild chili powder
1 tablespoon cumin
2 cloves chopped garlic
Mix all ingredients and keep refrigerated overnight.